Installing or reinstalling your Office suite software
The procedure to install your Office suite software is the same as the procedure to reinstall.
Though it should give you years of trouble free service, the occasion may arise when you need to repair or reinstall your Office 365 software. This could be, for example, to replace a broken hard drive, or to fix a corrupted software issue. If you have a suspected corruption with your Office 365 software and you have tried unsuccessfully to repair it, using knowledge article, KB0011089, Repairing an Office application, then you can generally effect a repair by reinstalling the software.
This article describes how to sign in to your Office 365 account and then install or reinstall your Office 365 software. It contains the following sections:
To sign in to your Office 365 account, proceed as follows.
Note:
If you don't know your email address and password then contact the person who manages your email account to obtain these details before continuing.
Open your web browser or, if it's already open, open a new window.
Go to the sign-in page at Office 365 sign-in.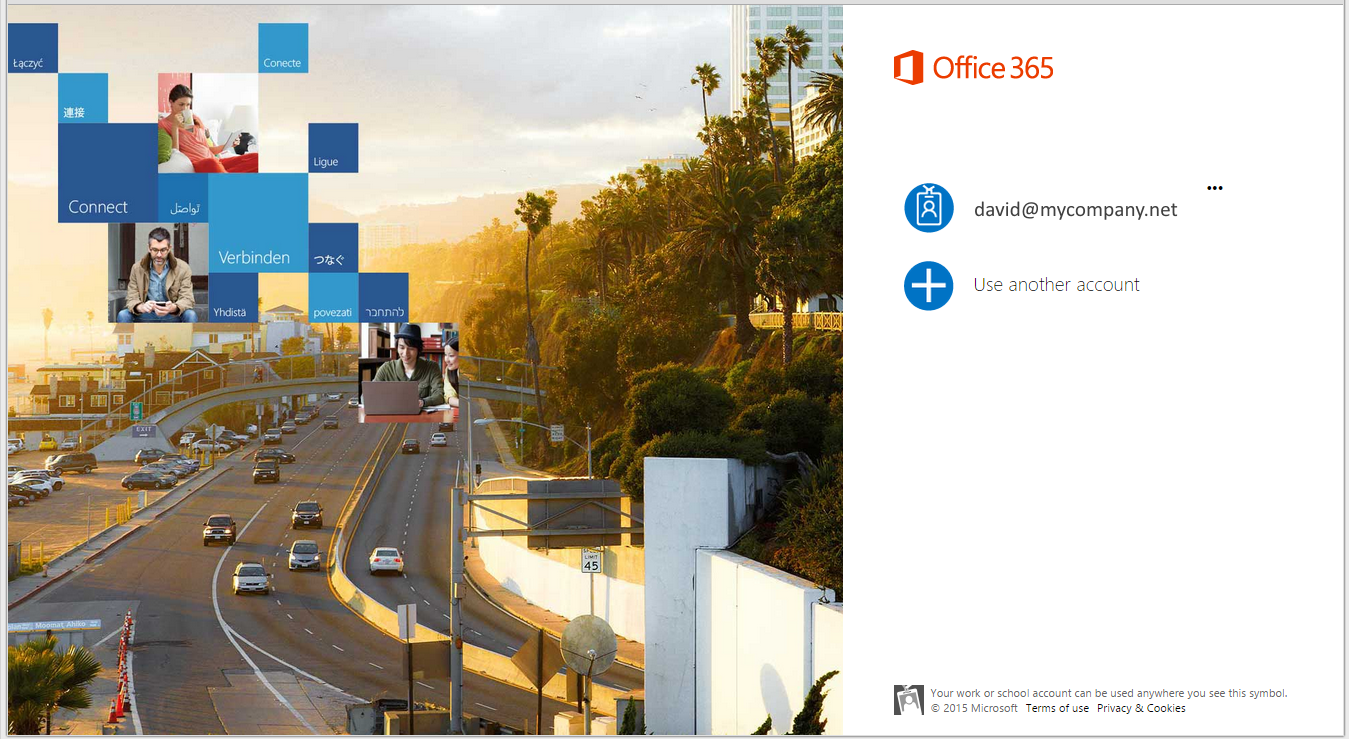 Enter the full email address for your Office 365 for business, Office 365 Education, or other Exchange-based email (for example, someone@contoso.com).
Note:
If your email address is already visible on the Office 365 sign-in page, then simply click on the email address.
If prompted, enter your password, then click Sign in.
You're now signed into your Office 365 account.
To access the Office 365 software, proceed as follows.
On the right hand corner of the black menu bar, click the Settings menu icon, then click, Office 365 settings.

The Office 365 Settings page opens.
Click, Install and manage software.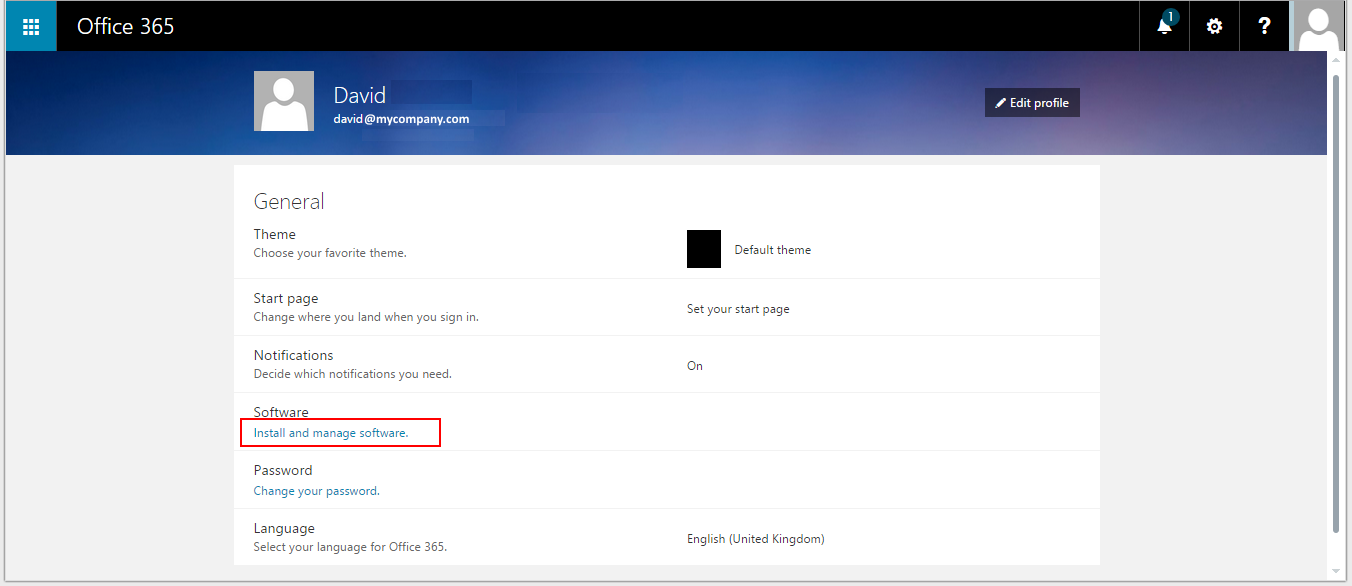 The Office Installs page opens.
To install, or re-install, the latest version of Microsoft Office then, from the Office Installs page, proceed as follows.
Click Install.
Note:
The Install option will be active only if you have Installs available on your account. Under, Manage installs, you will see the number of, Remaining installs available. If you have no Installs available then you may free-up an install by clicking, Deactivate against one of your current listed installs.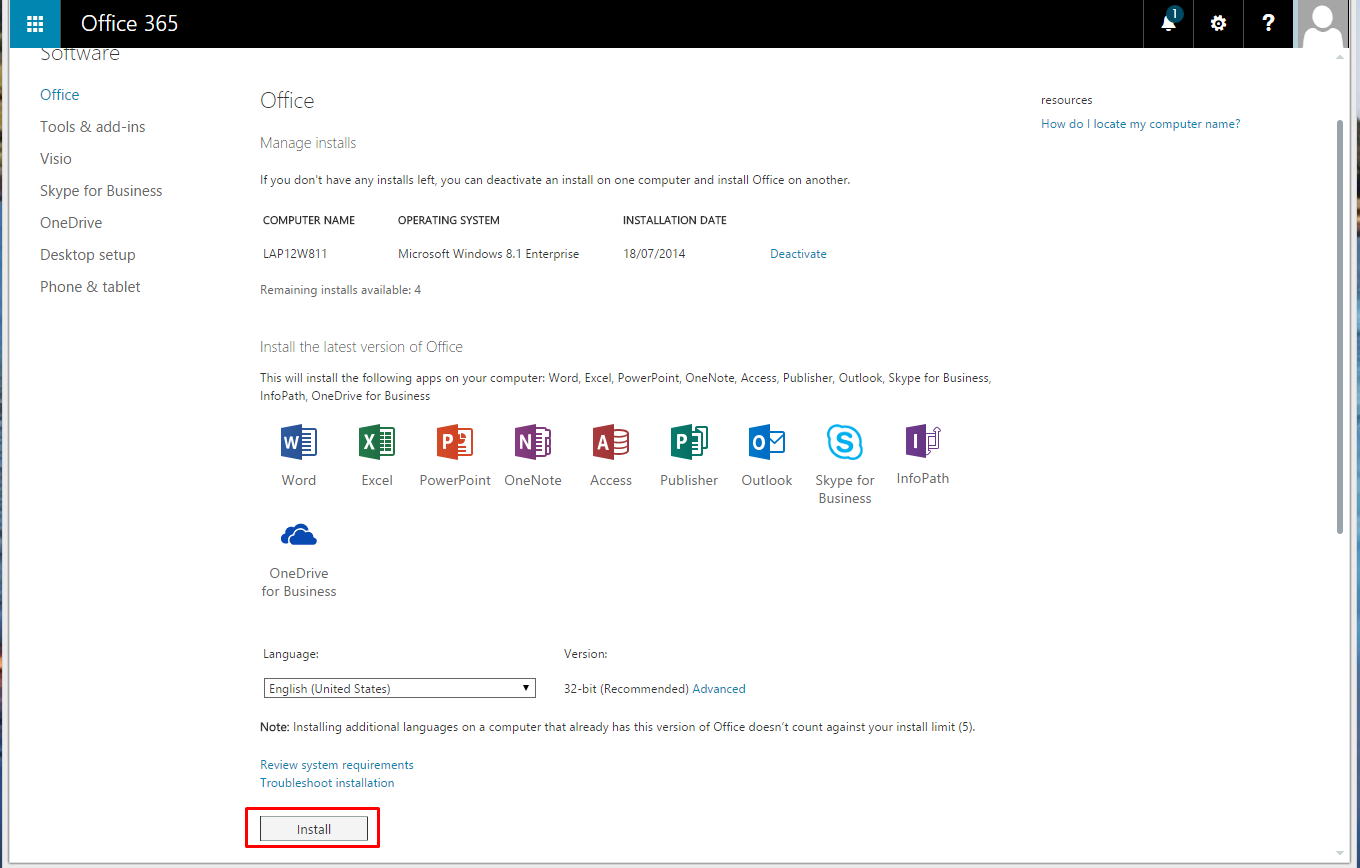 The Office 365 .exe file is downloaded to the tray at the bottom of your window.

Click the downloaded .exe file.
The User Account Control dialogue box opens.
Click, Yes.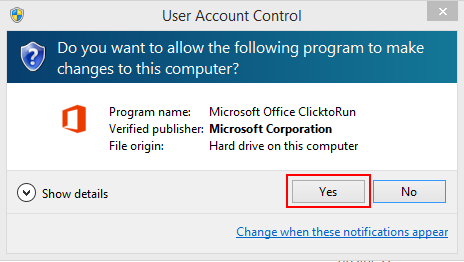 If you have any Office 365 programs currently running then the following dialogue box appears.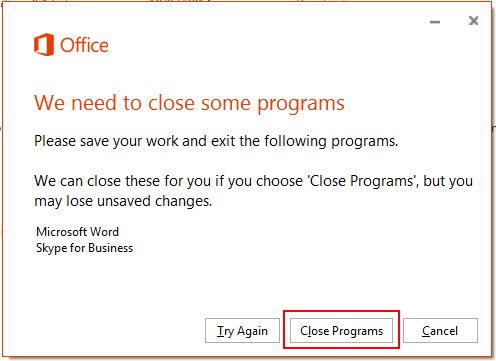 Either save and close the programs, or click the Close Programs button.
There may be a short wait while Office 365 closes programs that are running. Then the, Office: Getting things ready box appears, indicating progress in the preparation for installation.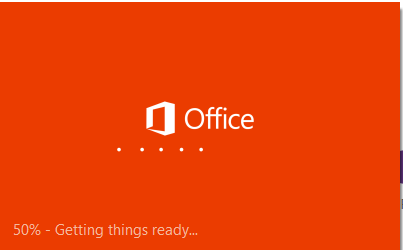 When ready for installation, the, Welcome to your new Office box appears.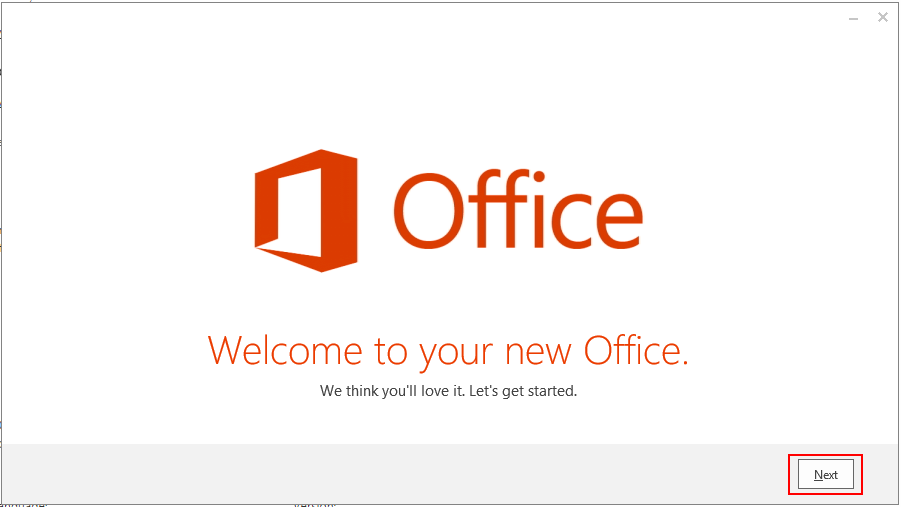 The installation continues in the background.
Click Next.
The, Meet one drive box appears.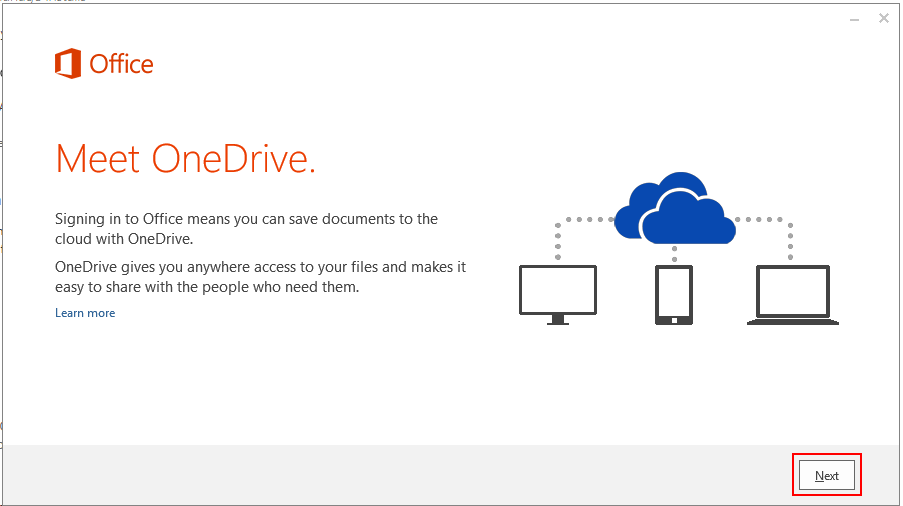 Note:
If you want to find out more about One Drive, then click Learn more.
To proceed with the installation, click, Next.
The, Hello <Your Name> box appears.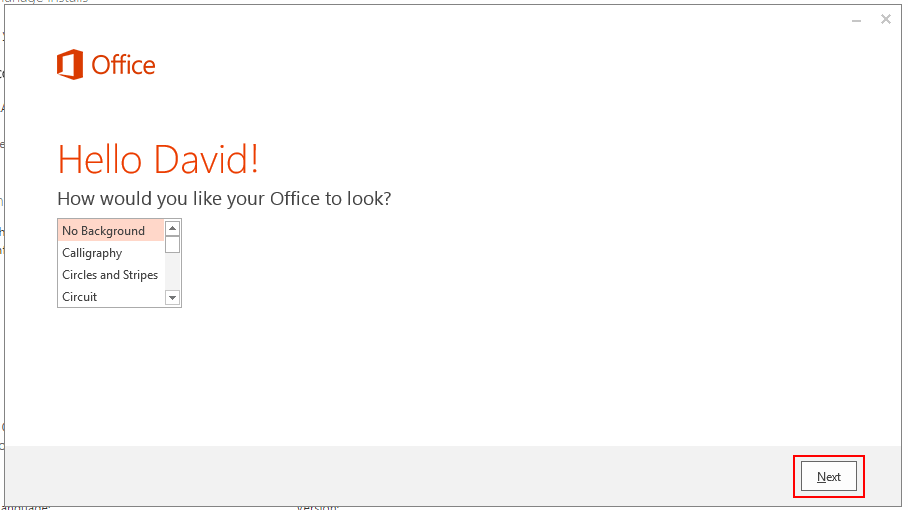 From the menu, select a background for your Office, or select, No Background.
Click, Next to proceed.
The, We're getting things ready box appears.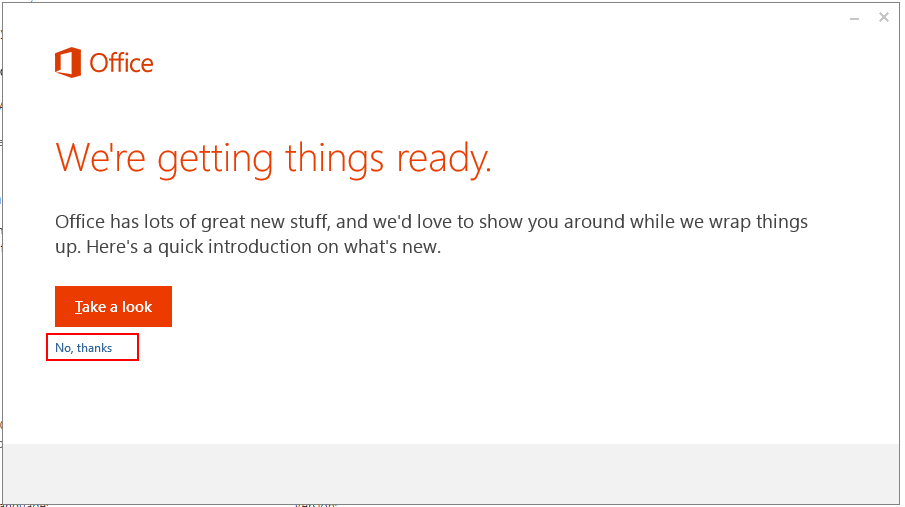 Note:
To take a quick tour of what's new in Office, then click, Take a look.
Click, No thanks to proceed.
A box appears indicating that the installation is almost complete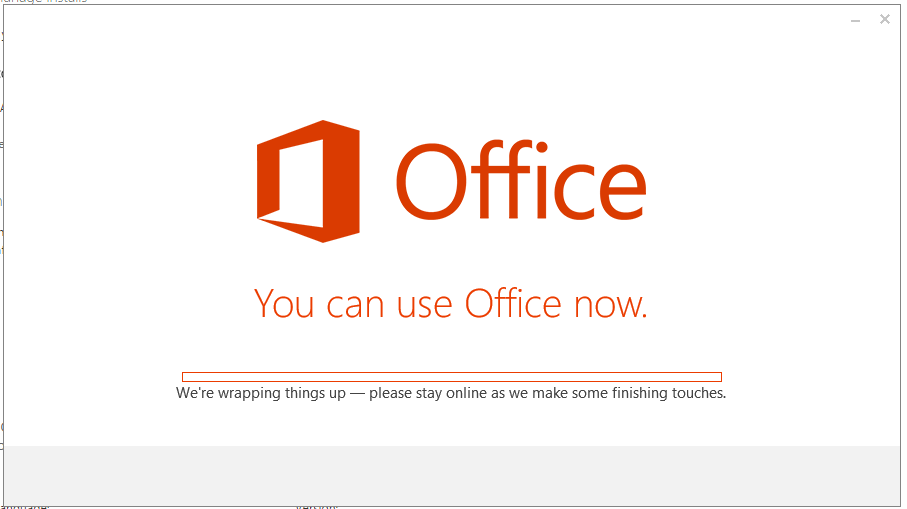 After a wait that may take a few minutes, the following box appears.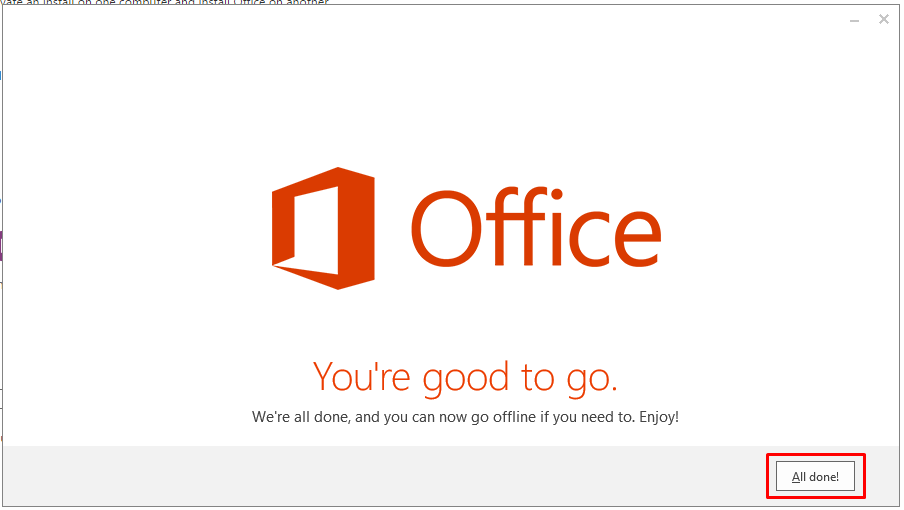 Click, All done!.
The installation is now complete and you may now use your new Office software.