Troubleshooting Outlook
This article describes how to troubleshoot Microsoft Outlook when you cannot send or receive e-mails. The article contains a troubleshooting flowchart that should help you to quickly resolve the issue. Use the Additional information section to support the flowchart.
If you require further assistance please don't hesitate to contact Cloud Direct Technical Support on 0800 0789438.
Troubleshooting flowchart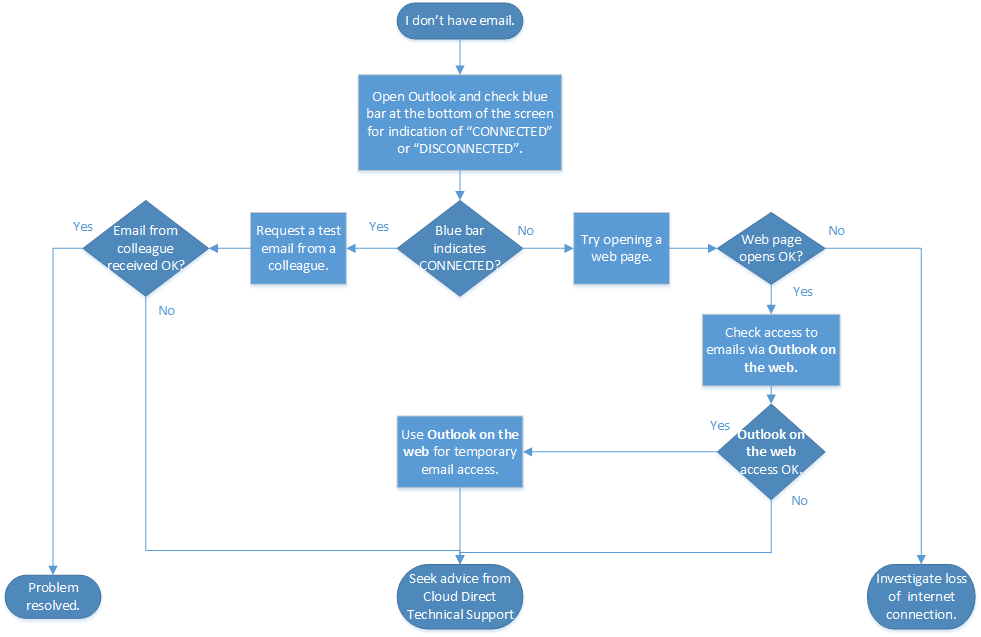 Additional information
The information contained in this section supports the Troubleshooting flowchart above.
Investigating loss of internet connection
You should report loss of internet connectivity to Cloud Direct Technical Support or, if connectivity is not provided by Cloud Direct, to your Internet Service Provider (ISP).
Outlook on the web
Outlook on the web, previously known as Outlook Web Access (OWA), is a Microsoft product that enables access to many of the features of Outlook from any internet-enabled location. For more information on how to use Outlook on the web, see Microsoft Support's helpful information for Outlook on the web.
Contacting Cloud Direct Technical Support
Contact Cloud Direct Technical Support on 0800 0789438 or, if you have email, via support@clouddirect.net.