Repairing an Office application
If an Office application isn't working properly, then sometimes simply restarting it will fix the problem. If that doesn't work, you can try repairing it.
This article describes how to repair an Office application. When you're done, you may need to restart your computer.
To repair your Office application, proceed as follows.
From your Windows desktop, go to the Control Panel, by completing one of the following:

For Windows 8, 8.1 or 10 - Right-click the Start button in the lower-left corner of the display, and choose Control Panel.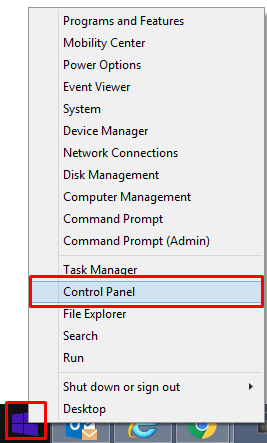 For Windows 7 or Vista, click, Start, and then click, Control Panel.
The Control Panel opens.
From the Control Panel, complete one of the following:

For Windows 8, 8.1 or 10, click, Programs and Features, or,
For Windows 7 or Vista, click, Programs, then, Programs and Features.
A list of installed programs appears under Programs and Features.
In the list of programs, locate the Office product you want to repair, right-click on the product name, and then select Change.

Note:
If you bought a suite like Microsoft Office 365 Home or Microsoft Office 365 ProPlus, search for the suite name. If you bought an individual Office application like Microsoft Word, search for the application name.
A dialogue box appears, requesting, How would you like to repair your Office programs?
Click either:

Quick Repair – Fixes most issues quickly, without the need for an internet connection, or,
Online Repair – Fixes all issues, but takes a little longer and requires an internet connection throughout. You can select this option if you are still having problems after trying Quick Repair.

Click the Repair button in the bottom left corner of the dialogue box.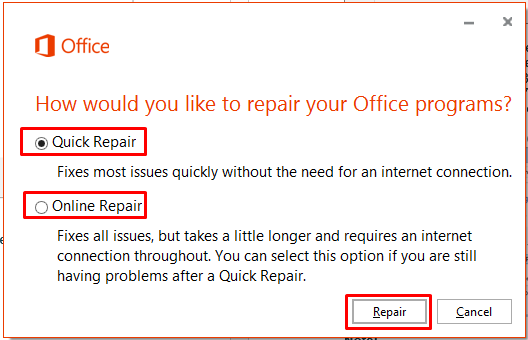 Note:
In Office 2010, there is no option to select Quick Repair or Online Repair. Simply click Repair, then click, Continue.
If running Repair doesn't solve the problem, you may need to uninstall and reinstall your Office application. See knowledge article, KB0011013, Installing or reinstalling your Office suite software.