Mapping a network drive on your Mac OSX
To map a network drive on a Mac OSX device, proceed as follows.
Open a Connect to server window, using either of these two methods;

From the Mac OS X Finder, click Command+K, or,
With the Finder active, from the Go menu, select Connect to Server to bring up the 'Connect to Server' window.

Enter the path to the network drive you want to map (for example, smb://networkcomputer/networkshare), then click Connect.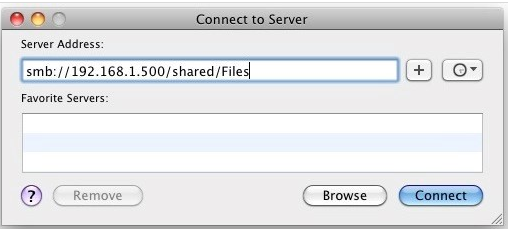 You will be prompted for your username and password.
Enter your username and password, then click OK to mount the network drive.
The drive is mapped, and will now appear on your desktop and in the Finder window sidebar.