A guide for new users to Office 365
Congratulations on subscribing to Microsoft Office 365 from Cloud Direct, the cloud-based secure office. With Office 365, you can access files anywhere, use 1TB of file storage for each user, and work with the rich features of the web version of Microsoft Office.
Instead of having Microsoft Office installed on each individual computer, Office 365 is installed on a Windows Server, and deployed to shared computers, enabling each to run Office 365 programs, such as Word or Excel, at the same time.
If you have previously been a user of Microsoft Office then you will find Office 365 very similar. This article provides information to help new users to adjust to the cloud-based Office 365 environment quickly and easily.
In particular, the topics covered are:
As part of your move to Office 365, you may be upgrading your version of Microsoft Office. The Microsoft support team have produced excellent information packs detailing what's new in each Office upgrade. Please refer to the following for further information:
Signing in to your new Office 365 account requires a username and password. The username comprises your login name (for example joe.bloggs), together with your company domain name. So, for example, joe.bloggs@clouddirect.net.
Important Note:
Your Office 365 login username may, or may not, be the same as your email address.
Signing in to your Office 365 account
To sign in to your Office 365 account, proceed as follows.
Note:
If you don't know your Office 365 username and password then contact the person who manages your IT services to obtain these details before continuing.
Open your web browser and go to the sign-in page at Office 365 sign-in.

Enter your Office 365 username or, if your Office 365 username is already visible on the sign-in page, then simply click on the username.
If prompted, enter your password.
Click Sign in.
Your Office 365 account opens.
In the example above, Office 365 opened on the Outlook Mail application. To access other applications, click on the application menu in the top left hand corner of the display, then click on the required application icon to open it.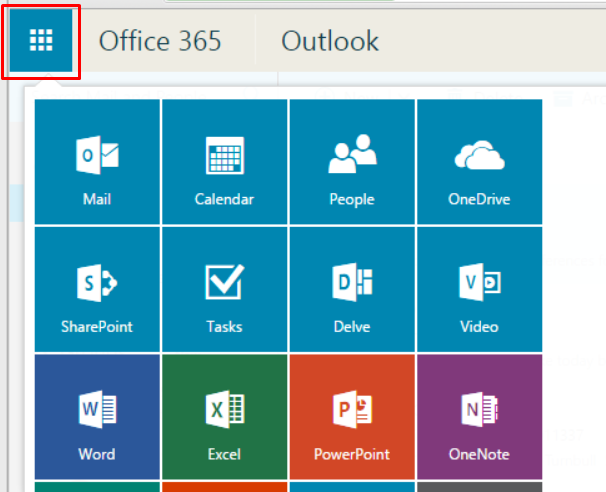 Note:
The options available to you in the applications menu depend on the particular Office 365 subscription you have chosen to purchase.
Your old email account will have been migrated to Office 365 and may be accessed by signing into your Office 365, Outlook on the web, account at https://outlook.office365.com/.
For information on how to set up your email, please refer to the Cloud Direct knowledge base.
Changes to your Outlook settings
Following your mail migration, there are a few functions that you may have to set up again on your new Outlook account. These include:
Auto-complete for mail recipients in new messages will no longer work.
Signatures will have reset to blank, and will have to be recreated.
Mail rules will have been wiped and will need to be reset.
OneDrive is essentially free online storage that comes with your Microsoft Office 365 account. It can be considered as your own personal drive for saving documents, but you can use OneDrive to share files, or folders, with others too. Save your files to OneDrive and you'll be able to get to them from any PC, tablet, or phone. Files you save to OneDrive are available online through your Office 365 account, and offline on your PC. That means you can use them anytime, even when you're not connected to the Internet. When you reconnect, OneDrive updates the online versions with changes you made offline.
Accessing OneDrive
To access OneDrive, proceed as follows.
Sign in to your Office 365 account at Office 365 sign-in.
Click the App menu icon in the top left hand corner of your screen and, from the menu options, click OneDrive.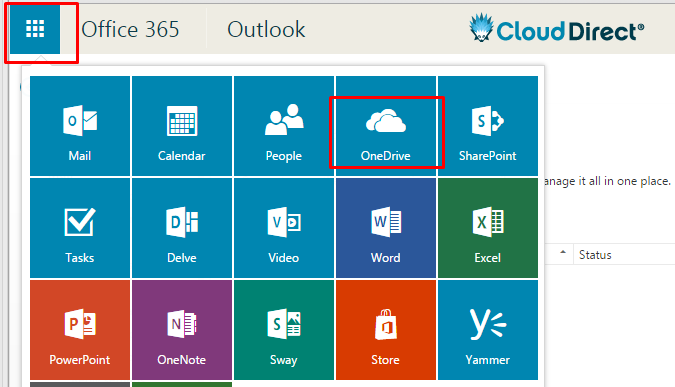 The Office 365 application, OneDrive, opens.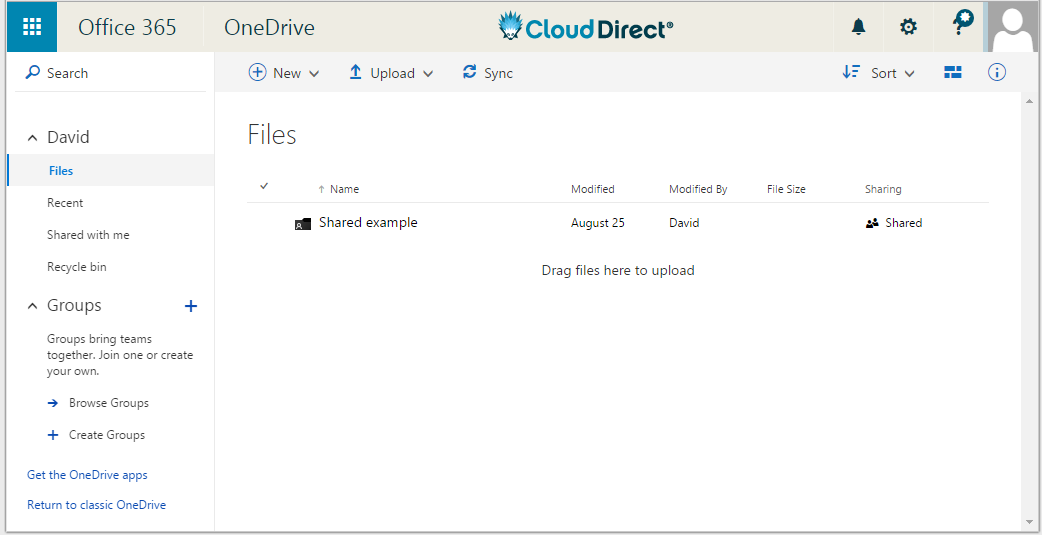 OneDrive help
If you are new to OneDrive, you may find the OneDrive help webpage particularly useful. Produced by the Microsoft support team, OneDrive help provides easy to follow instructions on the following OneDrive topics:
Get started
Troubleshoot problems
Add or upload files
Save, open, and edit files
Share files
Sync files (ensure that files you work with off-line synchronise with their on-line version when you connect to the internet)
See files from mobile devices
Manage files
Microsoft have produced a number of useful Help articles for users of Office 365. These are freely available at Microsoft support: Office help and training.
The Cloud Direct knowledge base contains many articles showing "How to" carry out everyday tasks with Office 365, and is particularly helpful when looking for information on how to set up Outlook. The Cloud Direct website also contains a library of over one thousand short videos showing how to get the best from Office 365. To access this library, see, Accessing the Office 365 video library.
If you can't find what you're looking for in the knowledge base or the video library, then the Cloud Direct Technical Services team are always ready to help. Contact them on 0800 0788438, or email techservices@clouddirect.net.