Setting and changing the Attix5 encryption key
Initial set up
The Attix5 encryption key is initially created using the Setup Wizard when setting up a new Backup Account. See knowledge article, "Creating an Attix5 backup account and schedule" for details of how to create an encryption key as part of the new backup account procedure.
Changing the encryption key
Caution:
Changing the encryption key involves intensive processing on the Storage Platform and may take several minutes. You should avoid doing this unless the encryption key has been compromised.
The encryption key may be changed as follows.
On the Tools menu, click Options.
Alternatively, click the Options button on the toolbar:

The Options and Settings window appears, opening on the Backup Account page.
Note:
If the Backup Account page is not shown, then select it from the left hand navigation pane.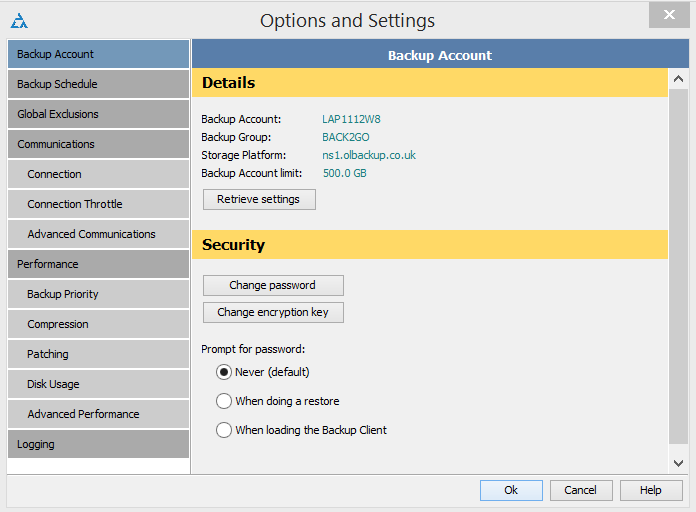 In the Security section, click the Change encryption key button.
The Account Settings Change window appears.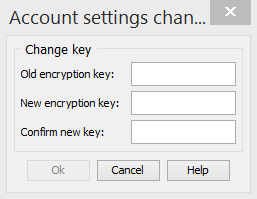 Enter your Old encryption key.
Enter a New encryption key, then enter it again in the Confirm new key text box.
Click OK.
A Changing Account Settings window appears briefly as Attix5 makes the required change to the encryption key. The encryption key has now been changed.
Caution:
Disaster recovery is not possible without the encryption key. Please ensure that this key is kept in a safe place. THIS ENCRYPTION KEY IS NOT STORED ON THE STORAGE PLATFORM AND CANNOT BE RECOVERED OR RESET BY CLOUD DIRECT IF LOST.