Changing Attix5 account details
You can access your Attix5 Backup Account information and security settings from the Backup Client via the Tools menu or via the Backup Client Toolbar.
On the Tools menu, click Options.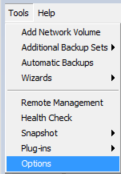 Alternatively, on the Toolbar, click the Options button

.
The Options and Settings window opens on the Backup Account page.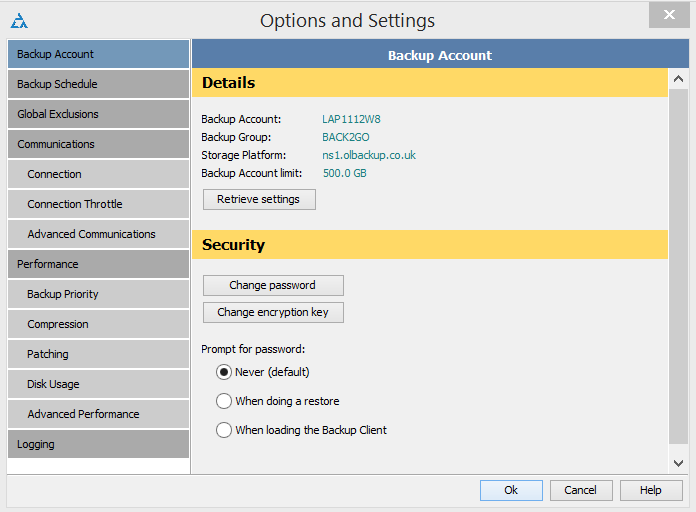 You can use the Backup Account page to retrieve Backup Account settings or modify security settings.
The Backup Account page comprises two areas: Details and Security.
Details
This area displays your Backup Account information as it is configured on the Storage Platform. You can use the Retrieve settings button to retrieve your Backup Account details from the Storage Platform. The Retrieve settings button is useful to verify that the Backup Account limit has been modified after requesting a change from the backup administrator, or to update Backup Group Profiling settings.
Security
If you need to change your account password or encryption key, click the Change password or Change encryption key buttons.
Caution:
Changing the encryption key involves intensive processing on the Storage Platform and may take several minutes. You should avoid doing this unless the encryption key has been compromised.

Disaster recovery is not possible without the encryption key. Please ensure that this key is kept in a safe place. THIS ENCRYPTION KEY IS NOT STORED ON THE STORAGE PLATFORM AND CANNOT BE RECOVERED OR RESET IF LOST.
You can select whether or not the Backup Client should prompt for the Backup Account password.
Three options are available:
Never (default): The Backup Client remembers the Backup Account password when doing a backup or restore.
When doing a restore: The Backup Client prompts for the Backup Account password when opening the Restore tab.
When loading the Backup Client: The Backup Client prompts for the Backup Account password when opening the Backup Client and the Restore tab.