Sharing files or folders with OneDrive
OneDrive is essentially free online storage that comes with your Microsoft account. It can be considered as your own personal drive for saving documents, but you can use OneDrive to share files, or folders, with others too. Save your files to OneDrive and you'll be able to get to them from any PC, tablet, or phone. Files you save to OneDrive are available online at OneDrive.com, and offline on your PC. That means you can use them anytime, even when you're not connected to the Internet. When you reconnect, OneDrive updates the online versions with changes you made offline.
This article describes how to share files or folders with OneDrive
Note:
There's a short but informative video, produced by Microsoft that describes how to Share files and folders using OneDrive.
Sharing files or folders with OneDrive
Using OneDrive, you can share documents with internal colleagues and external parties. To do this, proceed as follows.
Log in to your Office 365 account, and open OneDrive.
From within OneDrive, highlight the file/document that you would like to share.
On the menu bar at the top of the page, click Share, or Get a link.

Note:
The Share function may alternatively be accessed by clicking on the three dots (ellipsis) that appear to the right of the file name just before the Modified column (you may need to hover over the file name in order for the ellipsis to appear).
The Share dialogue box opens, on the Invite people page.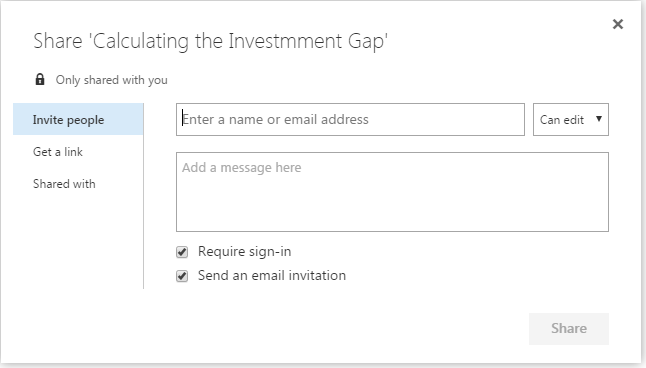 Note:
The same Share dialogue box opens if you click Get a link instead of Share. The only difference being that when Share is clicked the dialogue opens on the Invite people page, and when Get a link is clicked, it opens on the Get a link page.
From the Share dialogue box you can Invite people via an email, or click Get a link to create a publicly-visible link to view or download the file.
Invite people
This is the recommended way to share a document.
Enter the name(s) or email address(es) of the recipients.
Click the Can edit dropdown to select appropriate permissions (edit, or view).

Type a short introductory message if required.
Tick Require sign-in if the you would like to restrict access only to logged in recipients.
Tick Send an email invitation to have OneDrive automatically send out an invitation to the recipients.
Click Share.
The selected individuals now have access to your shared document.
Get a link
Important Note:
Be careful. Get a link makes the file available to anyone, including anyone that your recipients share the link with!
Click Get a link to create a publicly-visible link, to view or download the selected file.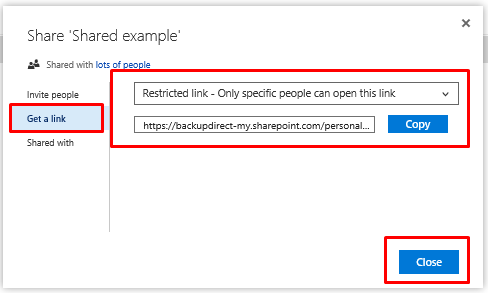 Click the access criteria dropdown to select which groups can open this link.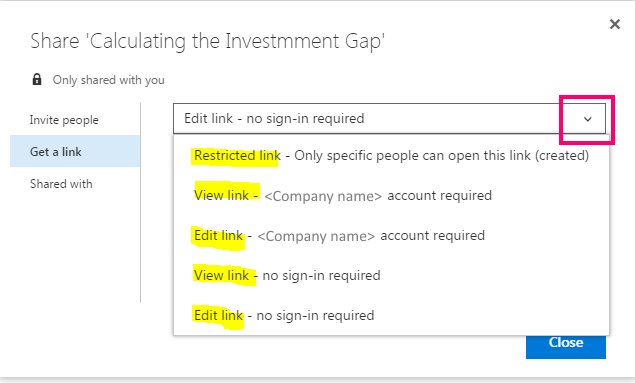 The document link is visible in the text box beneath your selected access criteria.
Click the Copy button to place that link on your clipboard.
Click Close to close this dialogue box.
Paste the copied link into an email, text message, instant message, or any other medium, and your recipient will instantly have access to the file.