Adding a new Team Member in Workplace
This article describes how to add a new Team Member to your Datto Workplace team. Once added, the new Member must accept your invitation to join in order to activate the newly created account.
Note:
If there are multiple new Team Members to add then it may be quicker and easier to import a previously prepared .csv file containing a list of Team Member details. See knowledge article, KB0012299, Importing multiple new Team Members in Workplace, for further details.
Only Team Administrators can add new Team Members.
Before commencing this procedure, it is assumed that a user is logged into Workplace Online, with the appropriate Administrator privileges.
Adding a new Team Member
To add a new Team Member, proceed as follows.
From Workplace Online, select the Team tab, and then ensure the sub-tab, Members, is selected.
Click Add a Member.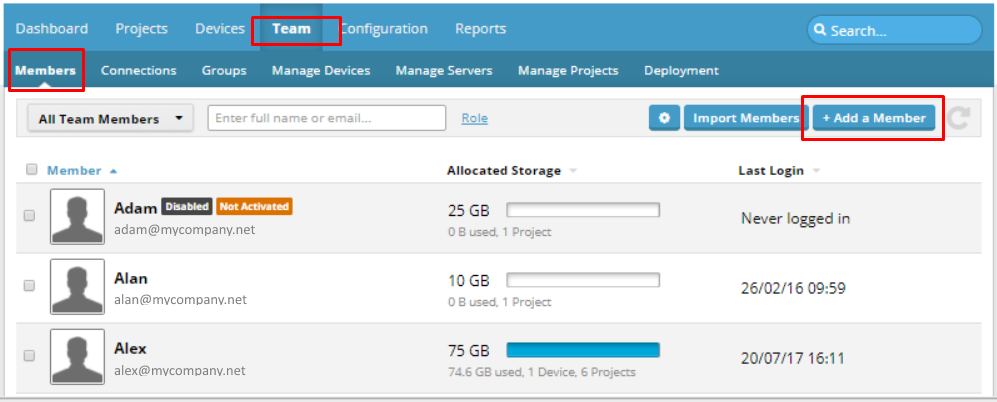 The New Member details page opens.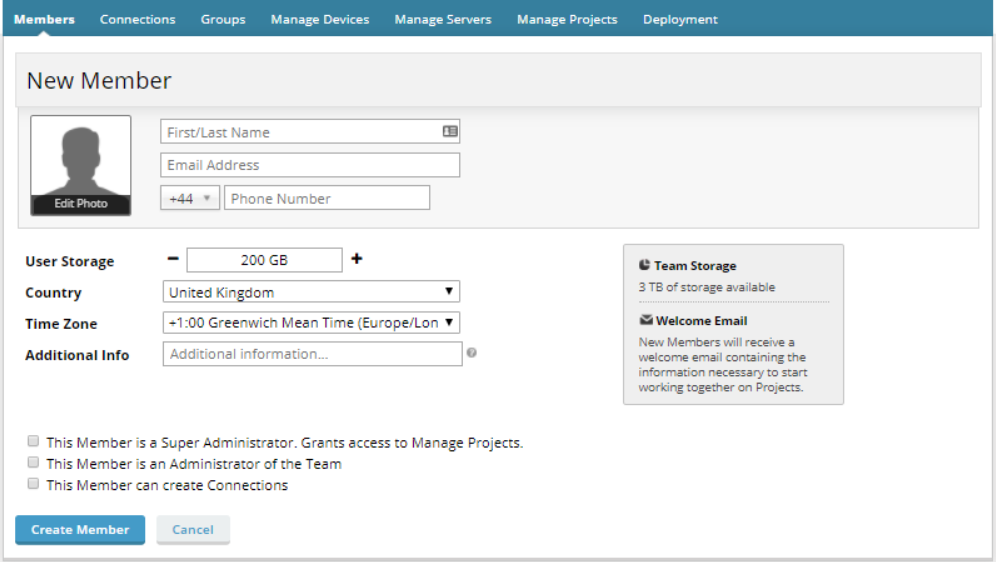 Enter the new Team Member's name, email address and phone number. Note that the phone number must be in the format (1225) 123456.
Allocate storage quota as required
Note:
The Team Storage message at the right-hand side of the page indicates the maximum storage space allocated from the Project Owner to the entire Team. User Storage space, for the new Team Member, may be increased or decreased by the Administrator, but may not exceed the maximum Team storage space.
Specify the Country and Time Zone.
Enter any Additional Information (optional).
Specify the abilities of the new Team Member, by ticking checkboxes as required:

This Member is a Super Administrator. Grants access to Manage Projects, or
This Member is an Administrator of the Team, or
This Member can create Connections.
Click Create Member.
The new Team Member account is created. The New Member details page closes and the new Member's details now appear in the list of Members.

Action required from new Team Member
New Members receive a Welcome email, similar to the example below, containing the information necessary to start collaborating on Datto Workplace Projects.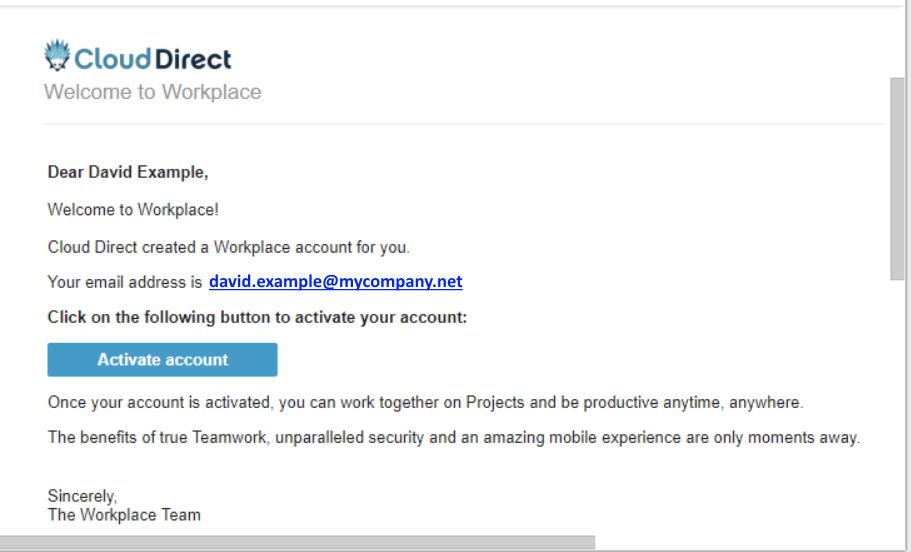 To activate the new account, the Team Member must click Activate account, and follow the on-screen instructions.