Signable via Provide™
Signing your Service Agreement with Cloud Direct
After speaking with one of our salespeople, you may be sent a quote to review, and accept or reject. We have a simplified process for doing this in Provide™ using a feature provided by electronic signature software experts, Signable.co.uk.
The email you receive will contain the quote details, and a link stating; Click here to accept this quotation and e-sign.
Important!
This link can only be used once. If you choose to accept the quote you must decide now if you will sign the appropriate Service Agreement or if you will nominate someone else to sign it.
Click the link in your email.
A Cloud Direct page opens in your browser.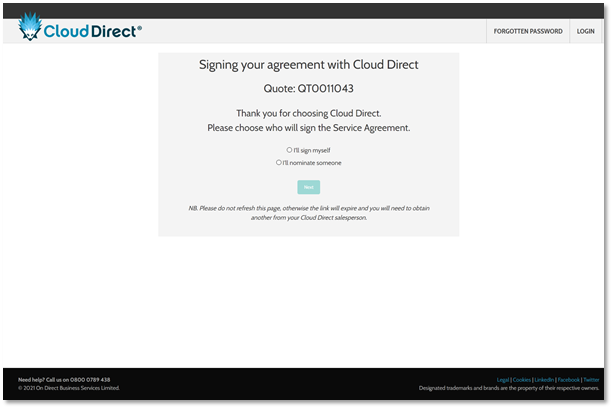 Select either, I'll sign myself, or I'll nominate someone, then click Next.
Refer to the appropriate section below for your next step; I'll sign myself, or I'll nominate someone.
Help!
If, for any reason, you get a message saying the link has expired, or if you enter the wrong nominee to sign, then please contact your Cloud Direct salesperson and request another quote.
I'll sign myself
If you choose, I'll sign myself, then at the next screen, click Confirm to confirm your choice. (Alternatively, click the Back button to return to the previous screen and nominate someone else).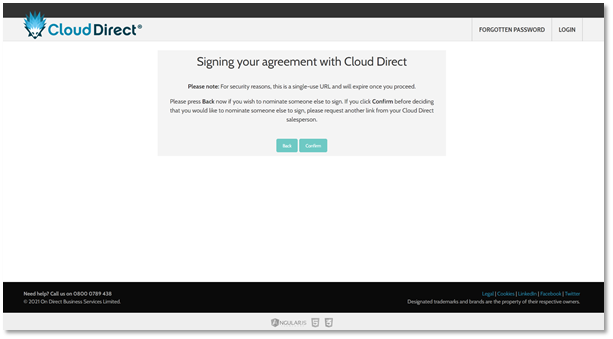 After clicking Confirm, wait for 10 to 15 seconds while the signable documents are prepared.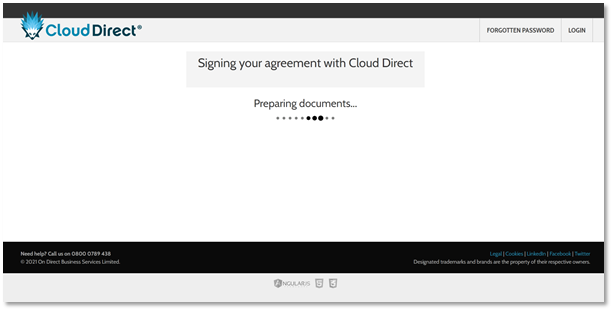 Signable.co.uk then opens in the same page, enabling you to securely sign.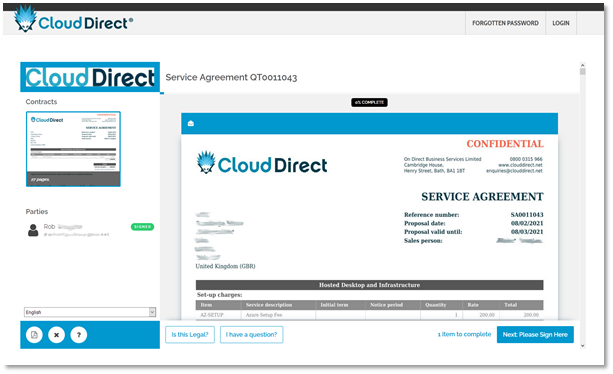 You may view the Service Agreement on this page. Additionally, if required, you may download a PDF of the Service Agreement for your records, either before or after you have signed it.
Signable will guide you through signing the document with on-screen prompts and even a 'Show me' demo if you are unfamiliar with the signing process.
I'll nominate someone
If, instead of signing yourself, you choose to nominate someone else to sign, then enter their details in the form, as shown below, and click Send.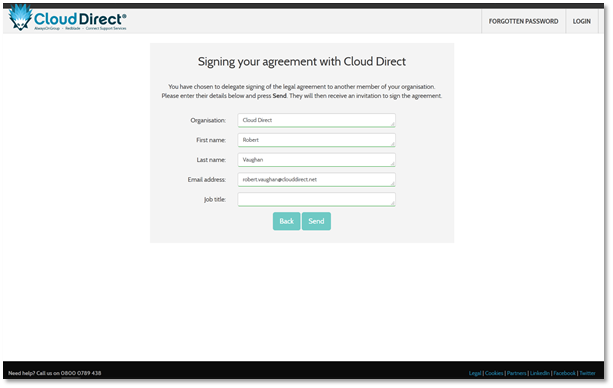 The nominated person then receives an email similar to the one you received, containing a link to our signing page as shown earlier.
Confirmation emails
Once you, or the nominated person, have signed the agreement using Signable.co.uk's secure signing facility, you will receive two confirmations emails; one from Signable and one from us.
It's as simple as that!